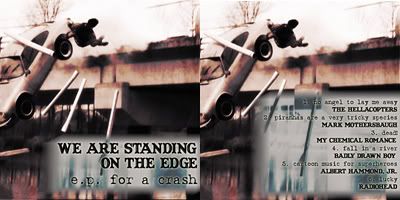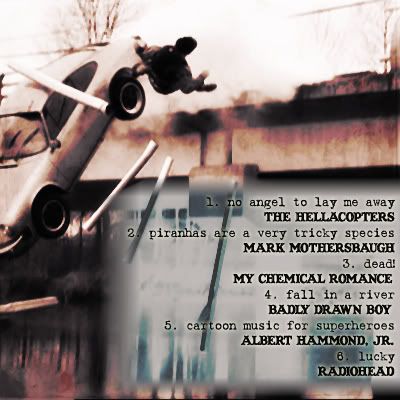 We Are Standing On The Edge: E.P. For A Crash
Lex Luthor: Clark, do you believe a man can fly?
Clark Kent: Sure. In a plane.
Lex Luthor: No, I'm not talking about that. I'm talking about soaring through the clouds, with nothing but air beneath you.
Clark Kent: People can't fly, Lex.
Lex Luthor: I did. After the accident, when my heart stopped. It was the most exhilarating two minutes of my life. I flew over Smallville, and for the first time, I didn't see a dead end. I saw a new beginning. Thanks to you, I have a second chance.
Watch the
crash
and their
conversation
afterward on YouTube.
01. No Angel to Lay Me Away - The Hellacopters
Reached for my Holy Bible
But it seems as though I've lost my ways
Don't want no superstition to carry me down
Got the devil grinning in my face
Lex. Before.
02. Piranhas Are A Very Tricky Species - Mark Mothersbaugh
[drum solo]
A Porsche, a truck, a roll of wire, a guard rail, a boy, and Lex can't believe his eyes.
03. Fall In A River - Badly Drawn Boy
Don't ask me where to
Fall in a river
I might deliver
You all the way home
Underwater, everything's quiet. And then, it goes black.
04. Dead! - My Chemical Romance
Have you heard the news that you're dead?
No one ever had much nice to say
I think they never liked you anyway
It's all over. Or is it?
05. Cartoon Music For Superheroes - Albert Hammond, Jr.
And when you wake, you'll see
That all these dreams aren't fake
They're real, not impossible
Lex flies.
06. Lucky - Radiohead
I feel my luck could change

Kill me Sarah
Kill me again with love
It's gonna be a glorious day

Pull me out of the aircrash
Pull me out of the lake
I'm your superhero
We are standing on the edge
The stuff of legends.
The zip file, including all files (all m4a, sorry) and artwork, can be found
here
. Please comment if you're downloading.